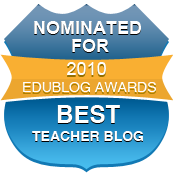 I'm so excited to announce that this blog has been nominated for the prestigious Edublog Award. I'm shocked to see that this blog could possibly stand up against the other nominees who also have exemplary blogs and are truly inspirational examples for others to follow as well. I'm humbled by this and I thank all those who nominated me.
The Edublog Awards is a community based incentive started in 2005 in response to community concerns relating to how schools, districts and educational institutions were

blocking access

of learner and teacher blog sites for educational purposes.
The purpose of the Edublog awards is to

promote and demonstrate the educational values of these social media.
The best aspects include that it
creates a fabulous resource
for educators to use for ideas on how social media is used in different contexts, with a range of different learners. It introduces us all to new sites that we might not have found if not for the awards process.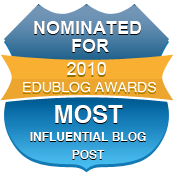 This blog has been nominated in two categories, actually. The first is Best Teacher Blog and the second is Most Influental Blog Post. Additionally, my class blog has been nominated for Best Class Blog. THREE nominations is incredible to me. I'm humbled, yet excited and proud that my hard work and willing to be open and transparent has been recognized.
Please take a moment to vote for my blogs here: